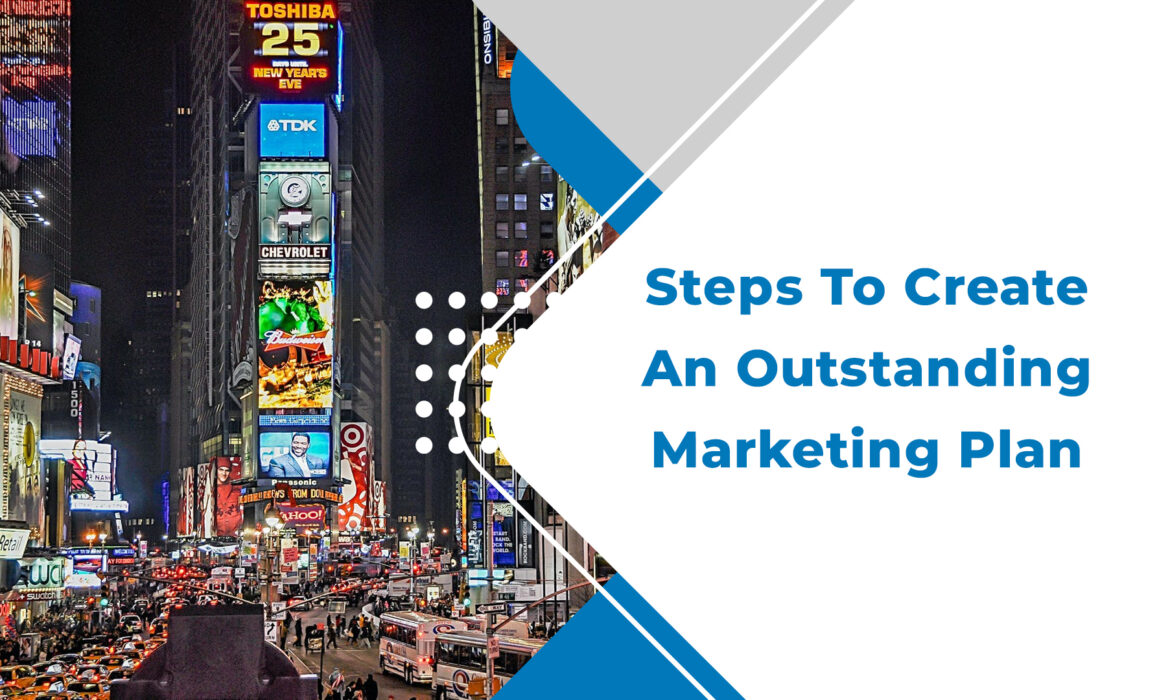 Creating a Digital marketing plan is essential for any business, no matter how big or small. But unfortunately, many businesses put little thought into their plans and simply create a document that lists their goals and strategies without any real direction. If you want your marketing efforts to be successful, then you need to take the time to create an outstanding marketing plan. 5 steps to get started: 
Define your target audience 

Set objectives and goals 

Create a laser focused strategy 

Establish tasks and timelines 

Implement and track results

Get a world class tech stack
There is no one-size-fits-all answer when it comes to creating an outstanding, as the best approach will vary depending on the products or services being offered and the target market. However, there are some essential elements that all successful marketing plans share. Firstly, it is important to have a clear understanding of your target audience and what needs and wants they have. Once you know who you are trying to reach, you can then start to develop a strategy for how to best reach them. This might involve using digital marketing tools such as search engine optimization or working with a best digital marketing agency that has experts in these areas.
They'll be able to help you understand the latest trends and develop a plan that takes advantage of them. It is also important to have realistic goals and objectives for your marketing campaign and to allocate adequate resources to ensure that it is successful. Make sure your website is optimized for search engines. This means using the right keywords and phrases, as well as ensuring that your site is easy to navigate. You could include blog posts, infographics, or even video content for better results. Must promote your content through social media and other digital channels as it is the best form of marketing nowadays and should run Ads according to your preference for getting Higher conversions. And finally, monitor your results so that you can continually improve your marketing plan. By taking these factors into account, you can develop a marketing plan that is tailored to your specific business and that stands out from the competition
As a digital marketing agency, we have a lot of experience creating outstanding marketing plans that deliver results. Here are some of the key elements that go into a successful marketing plan:
A clear understanding of your

target audience

and what they want or need from your product or service.

A well-defined brand identity that helps you stand out from the competition.

A solid strategy for reaching your target audience through digital channels such as

search engine optimization

,

Social Media Marketing

and

email marketing

.

A team of experts in

digital marketing

who can execute your plan and track your results.
If you have all of these elements in place, you're well on your way to developing a marketing plan that will help you achieve your business goals.
​​If you want to create an effective marketing plan, it's important to start by understanding your audience and their needs. Once you have a clear idea of who you're targeting and what they're looking for, the next step is to develop a strategy that aligns with your goals and resources. 
The key to a successful marketing strategy is having the right tools for your needs. These days, it's not just about what you're putting out there – but also when and how often! Marketing tech stacks can help save time by automating tasks that would otherwise take up all day long or be done only on an individual basis such as pulling data from various sources into one place so they are easy-to use later downline–and streamlining workflows using automated software which does repetitive actions quickly without any need whatsoever from human intervention.
From there, it's all about putting in the hard work and staying consistent with your messaging. And finally, don't forget to measure your results so you can track your progress and continue improving your marketing efforts.
Are you ready to get started, get in touch at info@roiboosters.com
When most people think of marketing, they think of advertisements and billboards. However, content marketing is a different type of marketing that focuses on creating valuable content for your target audience. Content can take many forms, such as blog posts, infographics, videos, or social media posts. By creating high-quality content, you can attract more website visitors, increase brand awareness, and even generate leads and sales. These all steps are done by a digital marketing agency or a specified digital marketer who can do all the content writing or blogs writing for your website So, what is content marketing and how can you get started? Keep reading to find out!
Content marketing is a term used to describe the creation and distribution of valuable content to attract and retain a targeted audience. The goal is to create digital marketing content that customers will want to consume, share, and recommend to others. Content marketing can be done through various channels, including blogs, social media marketing, email newsletters, and videos. By creating relevant and engaging content, businesses can build trust and credibility with their customers. Ultimately, this leads to increased sales and profitability.
Content marketing is a digital marketing strategy that involves creating and distributing valuable, relevant, and consistent content to attract and retain a clearly defined audience — and, ultimately, to drive profitable customer action. 
Content marketing is often confused with digital marketing or online advertising more generally. But content marketing is actually just one small slice of the digital marketing pie. It's a specific type of online marketing that focuses on creating and distributing content for a specific target audience with the goal of driving profitable customer action. 
Most digital marketers use a mix of different digital marketing channels to attract and engage their target audiences. The mix of channels will vary depending on the brand, the product or service being offered, the target audience, and the overall marketing strategy. But content marketing is always present in some capacity because it's an essential part of any digital marketing strategy. 
The most successful digital marketers use a variety of digital marketing channels to reach their target audiences. But they all start with a great piece of content. Content is the foundation of any digital marketing campaign because it helps you attract your target audience, build relationships with them, and ultimately drive profitable customer action.
Content marketing can be an extremely effective way to reach your target audience and achieve your business goals. However, it's important to remember that not all digital marketing content is created equal. In order to be successful with content marketing, you need to produce high-quality, original, and relevant content that resonates with your audience. With the right strategy in place, content marketing can be a powerful tool for driving sales and achieving success.
Have you ever heard of the marketing funnel? It's a process of digital marketing that helps businesses figure out how to convert leads into customers. But there's a secret about the marketing funnel that most people don't know. And that secret is… well, I'm going to let you figure that out for yourself.Keep reading to learn more about the marketing funnel and find out why it's such an important tool for businesses.
you know that there is a secret to successful digital marketing? Most people think that all you have to do is create a great ad or sales pitch and the customers will come flooding in. But it's not that simple. If you want your business to reach its full potential, you need to create a marketing funnel. A marketing funnel is a digital marketing strategy that helps you guide your potential customers through the buying process.In this blog post, we'll explain what a marketing funnel is and how you can create one for your own business.
Marketing funnel is a digital marketing strategy that helps businesses to attract, engage and convert their target audience into customers. It's a process of online advertising,"ppc pay per click marketing" that starts with creating awareness about the product or service among the target audience, followed by engaging them with relevant content and then converting them into customers by providing them an offer or discount.The main aim of using a marketing funnel is to create a seamless customer journey from the moment they become aware of your product or service. By doing so, businesses can increase their chances of success while also reducing their customer acquisition costs.
There are various stages of a marketing funnel, which are:
– Awareness: In this stage, businesses need to make their target audience aware of their product or service. This can be done through various digital marketing channels such as paid ads, social media campaigns, email marketing, etc.
– Engagement: Once the target audience is aware of your product or service, it's time to engage them with relevant and interesting content. This will help to build trust and credibility and will eventually lead to conversions.
– Conversion: In this stage, businesses need to provide their target audience with an offer or discount that will convince them to make a purchase. Once the purchase is made, it's important to follow up with the customer and ensure they're satisfied with their purchase.
It's the fact that the marketing funnel doesn't work as well as it used to. In the past, businesses could rely on strict marketing funnel models to bring in customers. But today, customers are smarter and more informed than ever before. They can see through most digital marketing strategies, and they're not afraid to click away if they don't like what they see. As a result, businesses need to rethink their digital marketing strategy. They can no longer rely on a single marketing funnel to bring in customers. Instead, they need to use a variety of digital marketing tactics to reach their target audience. From SEO and social media marketing to content marketing and online advertising, businesses need to use all the tools at their disposal to reach their customers.
So there you have it, the little-known secret about marketing funnel. It's not just about getting people to your site or landing page; it's also about understanding what they do when they get there. Once you know how to keep them engaged and moving through the funnel, you can start seeing better results from your online marketing campaigns. Have you tried using some of these digital marketing tactics in your own marketing? Let us know how it goes!